Landscape Design
At Surround, we have considerable experience designing residential and commercial landscapes. Our expertise covers a wide range of scales, from intimate residential gardens to expansive rural properties and large-scale housing developments. We strive to create considered and responsive landscape design solutions that surpass our client's expectations and achieve the best possible environmental outcomes.
We view the design of landscapes as both a technical and aesthetic expression in problem-solving that carefully balances the needs of people while enhancing the natural and built environments and the ecological relationships inherent within a landscape. Through thoughtful consideration of site context, architectural aesthetic and the end-user our projects aim to create thriving and enduring landscapes that inspire people to engage with the natural world.

We offer a complete landscape design service, from initial concept design through to the management of landscape construction. We are also well versed in collaborating as part of multidisciplinary consultant teams on a wide range of projects throughout New Zealand.
Residential Gardens
Farms & Lifestyle Blocks
Social / Community Housing
Medium Density Housing
Subdivisions
Apartments
Retirement Villages
Restaurants, Cafes and Wineries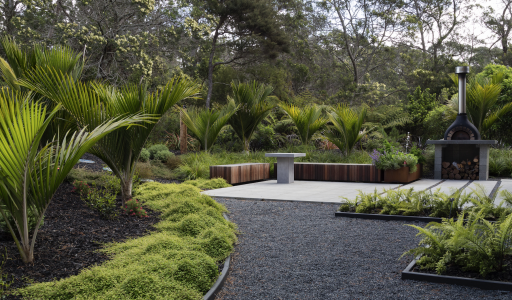 Native Revegetation Planning
Native revegetation, also known as ecological restoration, involves using New Zealand native plant species to restore natural bush environments or ecosystems that have been lost due to past development, farming, or natural disturbances. Whether undertaken on a small or large scale, this process offers numerous benefits, such as conservation, increased biodiversity, erosion control, preservation of bush remnants, increased populations of native birds, weed control, and improvements to water quality within streams.
To select the most appropriate native plants for each project, we analyse the ecological district of the site and the existing patterns of native vegetation present within the area. Our analysis takes into account the site's typography, including gullies, stream banks, steep faces, flats, flood-prone areas, and existing bush remnants. By doing this, we can ensure that the plants we specify will not only survive but thrive.
Establishing a strong canopy cover using hardy pioneer species is crucial when undertaking native revegetation projects. Weeds pose a significant threat and can hinder the success of a project. That's why we provide detailed plant installation and maintenance specifications, as well as weed and pest control plans to ensure the highest plant survival rates. Additionally, we provide advice and planting schedules for succession planting to introduce forest canopy species once the initial canopy cover has been established.
Research & Site Analysis
Landscape Typology Mapping & Typology Planting Schedules
Staging and Succession Plans
Plant Installation Methodology
Maintenance Specifications
Weed & Pest Control Plans